Effective Moist Heat Therapy For Body Aches And Pains - Ideal for Shoulder or Back - Will Soothe And Relax Any Muscle - Perfect For Tightness And Stress Relief.
The BodyMed Moist Heating Pad allows you to reduce nagging or chronic pain and helps you wind down after a long day. Heat is a wonderful healing agent. It is important to know when to use heat vs. when to use ice. The easiest way to determine what method of therapy to use is to remember that heat is for muscles and ice is for injuries. Heat is very effective at loosening tight muscles and relaxing the body.
Features
Controlled moist heat for temporary pain relief associated with muscle strains and sprains, joint pain and inflammation • Temporarily ease back pain caused by overexertion, stress and strain • Does not require water - produces own moisture using humidity in the air • Easy-to-read LCD controls allow user to set and monitor treatment temperature and time • Lock-out feature guards against unintended touching of the controls during treatment • 1hr Auto Shut-Off or the controls can be set in one-minute increments up to one hour • Include heating pad, fleece cover and instruction manual
Specifications
Maximum Temperature Setting is 166°
Standard Pad - 14" x 27"
Medium Pad - 14" x 14"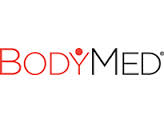 Note: THIS IS A NON-RETURNABLE PRODUCT