Call us for Best Price or Request a quote 866-425-3209!

This unit provides a thermostatically controlled and constant temperature to keep HotPacs at the ideal temperature for maximum therapeutic benefit to relieve stiff, sore muscles and to aid in tissue regeneration. Full fiberglass insulation on mobile units provides energy efficiency and prevents heat loss. Simple to fill and drain. No plumbing required. 3" swivel-type rubber caster for silent, friction free movement of mobile units.
The Chattanooga Hydrocollator is the standard all others can only hope to match. Durable and easy to maintain, these high-quality stainless steel units give you a constant supply of temperature-constant HotPacs. The M-2 Hydrocollator, our most popular intermediate-size unit heats up in 8 hours and cools down in 3 hours. The heating unit has an extra large tank and comes complete with 12 standard size HotPACs for immediate heat therapy use
M-2 Hydrocollator Heating Units feature:
High quality stainless steel
Thermostatically controlled temperature
Fiberglass insulation reduces heat loss and maximizes energy efficiency (M-2 only).
M-2 has 3" (7.5 cm) swivel-type rubber casters for silent, friction-free movement of mobile unit.
UL listed, CSA certified.
Easy maintenance. Simple to fill and drain, No special plumbing required.
Temperature range: 160 – 165°F
Thermal cut-out temperature: 180 –

185°F

Accurate to within 10%
No installation required - unit is ready to use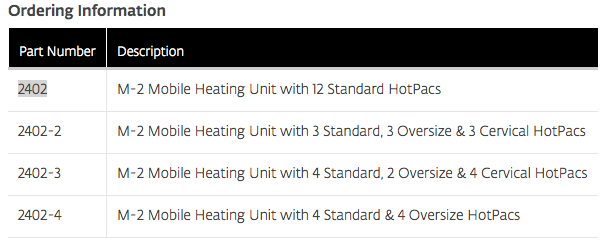 If the receiving facility does not have a loading dock, an additional $50 shipping charge may apply and be charged when the unit ships.
Wheels:

Yes

Hot Packs:

Included

Unit Weight:

95 lbs.